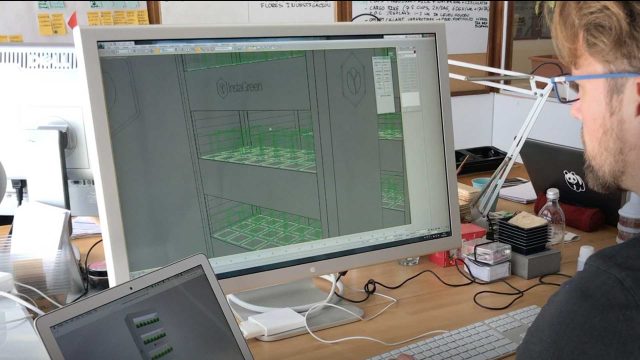 Job opportunity
Product Design – Intern
Barcelona – Spain
InstaGreen has an internship opportunity for a product designer to join our Urban Farming startup in Barcelona for the 2nd semester of 2018 as well as the 1st semester of 2019.
As part of a small and multidisciplinary team, you'll research possibilities to enhance products, conceptualize designs and create rapid prototypes for viability testing.
If designing and making is your thing and you want to be part of a world changing startup, please read on.
Product Design Intern
About InstaGreen
InstaGreen is an Urban Farming startup in Barcelona. We are taking the first steps to build a global business that provides the healthiest and freshest local urban food, in a sustainable and commercially viable way.
Simply put: we grow food in the city.
We cultivate microgreens, herbs and leafy vegetables in so-called hydroponic systems. When our plants are ready for consumption, we bring them to our clients (usually restaurants) where they are placed in our special InstaGreen displays until they are harvested for consumption.
Product Design Internship
We are looking for handy hands and brilliant brains for the industrial design parts of our R&D processes. We have developed and tested a hydroponic system in which we cultivate our plants with success and we have made displays for restaurants, to keep the plants alive there.
Based on the tests and user feedback we improved the system and displays and we are now building new prototypes to put to the test.
The next step is to further elaborate these designs to industrial production level. And these are exciting times since we will be moving to a new and larger space where we want to start using this improved hydroponic system!
So, we are looking for someone with good technological design skills who will work with us on translating insights into great industrial products.
About You
Easily grasp and comfortable working on tech stuff,
Proficient in 2D and 3D modeling tools,
You're a handy person, known for being a "maker",
Eager to share your thoughts and ideas and show us your vision,
Know that the quickest way to learn, is trying things out and making mistakes,
Ambitious and passionate worker with a positive attitude,
Able to work independently, yet not afraid to ask for help,
Enjoy the adrenaline, changes and insecurities that come with working in a startup,
Excited to learn new things and improve yourself continuously,
Enjoy the social parts of working in a small team
So, if you are this highly motivated person that is eager to join our hardworking startup team, please let us know who you are, show us some of your work and process, and tell us why you would like to do this internship at InstaGreen.
Please fill in this form entirely
Make someone happy!
If this job is not for you, but you know someone who would love it, please share it. They'll be forever grateful !