The best summertime salmon salad with granita ice.
Summertime is here! Reason enought to team up with Barcelona based Argentinian chef Pablo Muñoz to create a video recipe of a Smoked Salmon salad with Lemon Basil granita and Peashoots, both grown in the InstaGreen urban farm in Barcelona.
You can easily prepare the smoked salmon and the granita ice
Ingredients (4p)
Salmon filet – about 320 grams
Lemon basil – about 80 grams
Honey – 2 tablespoons
Crushed ice – 300 -400 grams
Water – 1/2 cup
Peashoots – about 120 grams
Black salt flakes
Tools
A smoker
Oak woodchips
Blender
Step 1: Smoked Salmon
(Tip: if you are in a hurry, buy smoked salmon. Although making it yourself is much more satisfying and tasty! ;-) )
Cut the salmon filet, sashimi style and put on a plate.
Cover the plate with the smoker. Add the wood chips, light them on fire and fill the cover with smoke.
Let it rest for about 15 minutes.
Step 2: Lemon Basil granita
Add the lemon basil, the honey and the cup of water to the blender.
Blend for about a minute until you have a green liquid (that smells great !)
Add the crushed ice. Blend again until you you have a even, smooth granita.
Save the granita in the freezer until you need it. (Tip: you can prepare the granita earlier, so you can easily scoop it on the plate just before serving.)
Step 3: Plate & serve
Add peashoots to the plate and distribute the smoked salmon sashimi over it.
Scoop the lemon basil granita with a luke-warm spoon and add on top.
Decorate with peashoot and the black salt flakes.
Enjoy the applause you'll get from your guests !
Recipe: Chef Pablo Muñoz – www.instagram.com/pablo_munoz_chef/
Location: Roc 35 – www.roc35.com
Let us know if you have ideas for recipes that are made with fresh microgreens from our urban farm. Just mail us at hello@instagreen.eu
Featured chef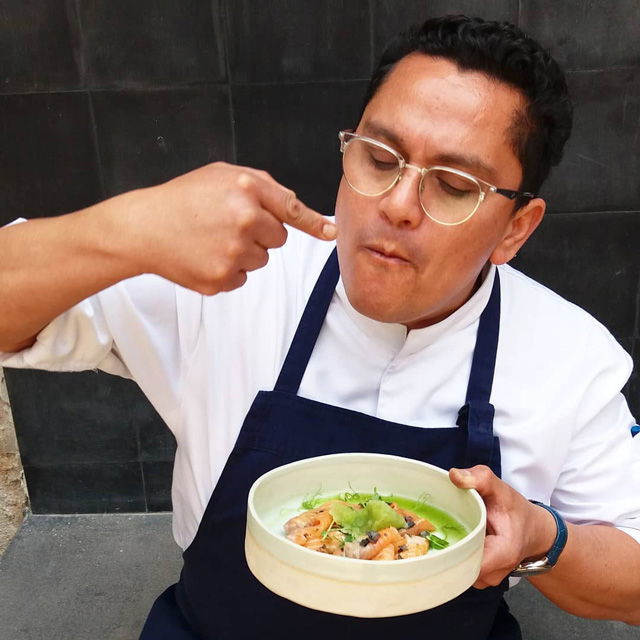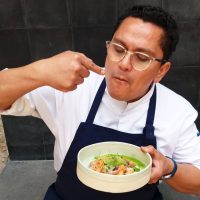 Pablo is an Argentinian private chef and culinary advisor, living in Barcelona. He makes tasty food that simply makes you happy.
Follow us on Instagram
Find more inspiration