Cultivation Systems
Low Tech Automation. High Productivity.
The most cost-effective and hassle free automated vertical growing system that is created for urban farmers, by urban farmers.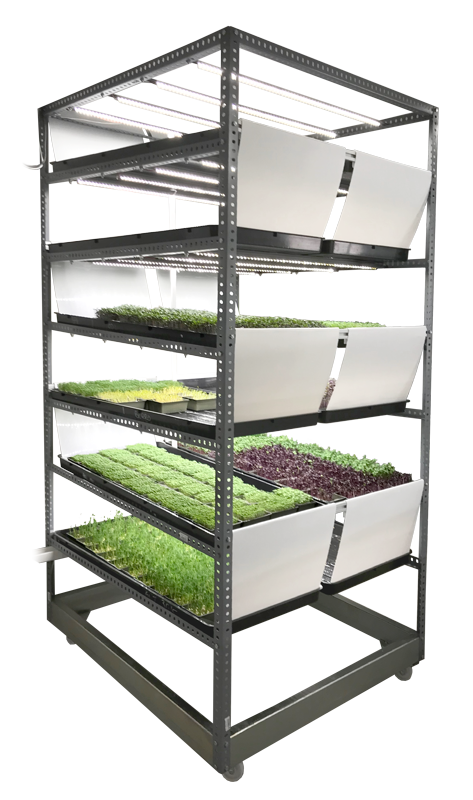 The InstaGreen cultivation system:
Grow with a low-tech, scalable design.
At InstaGreen we have spent years hacking indoor farming, testing and building efficient growing methods for the typical smaller scale local farms. Instead of going high-tech and focussing on 'fancy-looking-apps' that in reality you don't use, we built a low-tech system. But, with high quality LEDs and automatic irrigation to easily grow amazing microgreens.
A system that can meet the biggest challenge in urban agriculture: how to grow cost-effictively in relatively small indoor spaces. It's a no-fuss, easy-to-use and cost effective system that is developed and used at our own InstaGreen.eu urban farm in Barcelona before we started exporting it globally. Designed for adjustability, scalability and cost-effective growth.
capacity for
9,7
square meters =
104 square foot
low-tech
0
unnecesary apps
max
280 Watt
energy consumption
(± 1 solar panel)
Learn more about the system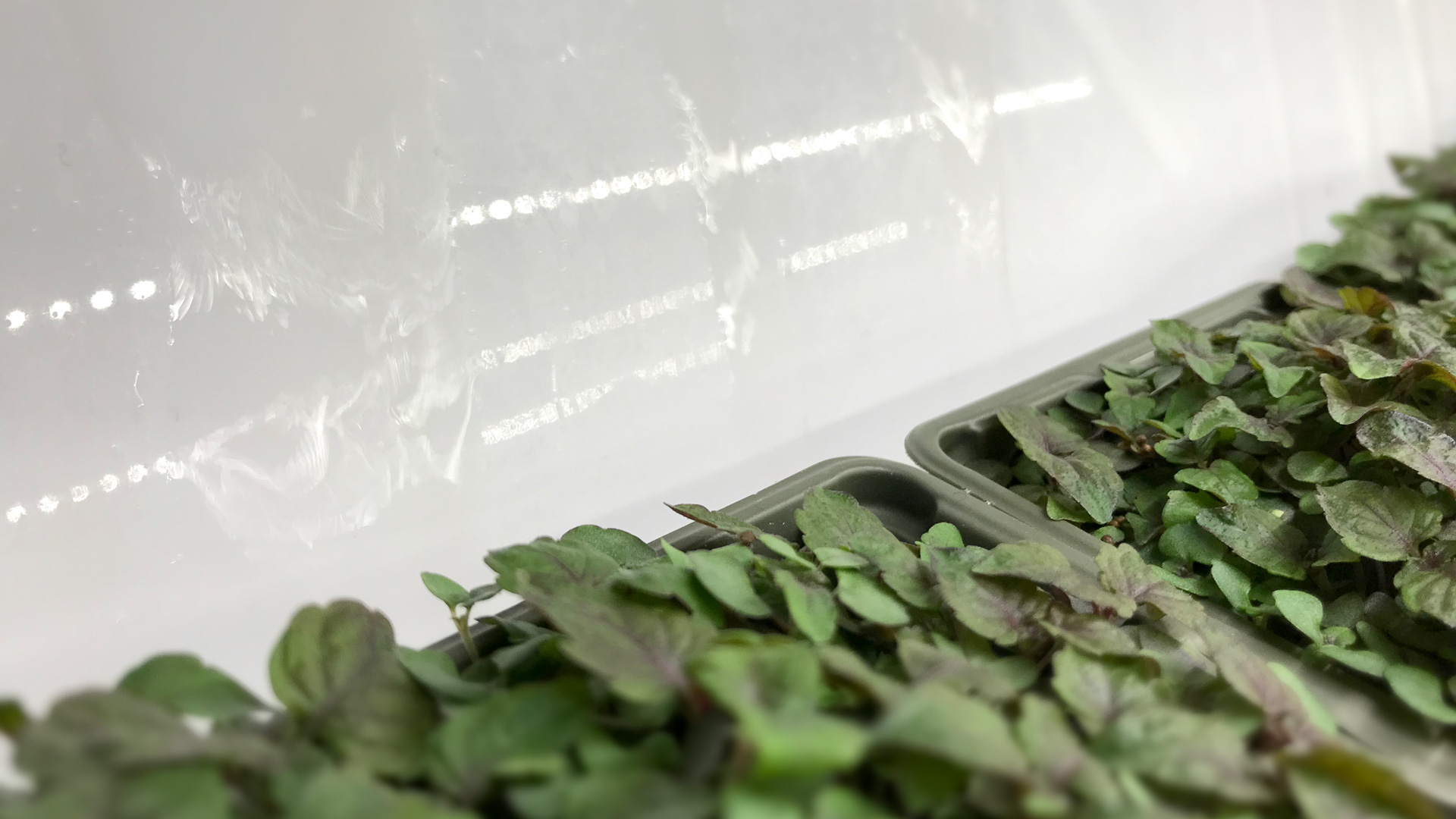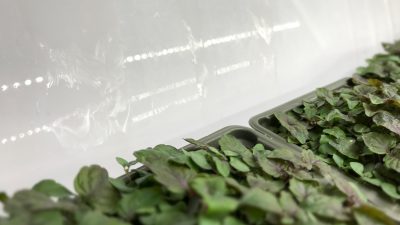 No-fuss: Low-tech, because that just works perfect.

No, we didn't 'build an app for that'. Plants grow perfectly without an app. ;-)
What we díd build, is a vertical cultivation system that uses our low-tech 'smart-watering-trays', watering slides and natural phenomena, such as capilarity and gravity, to get water, oxygen and nutrients to the growing greens.
(Read more on why we believe in low-tech solutions).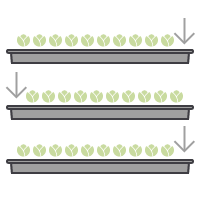 The only 'tech' you need
Our systems only use high-tech components where needed. Such as the high quality LED's to get the perfect amount of light to the growing microgreens. And pumps that automatically water your plants every day on schedule, so you can do more important stuff (Such as building your business, contacting new clients or enjoy some well deserved time off).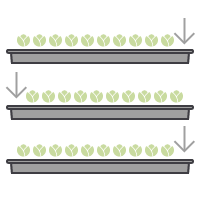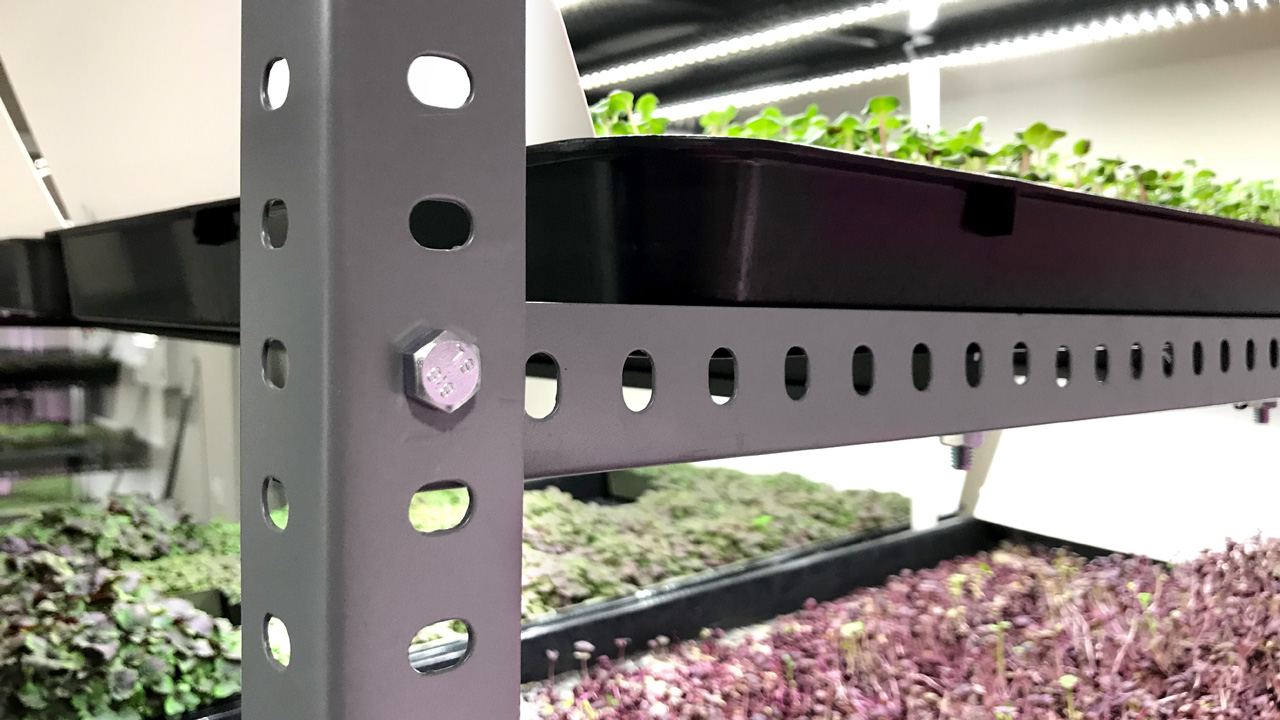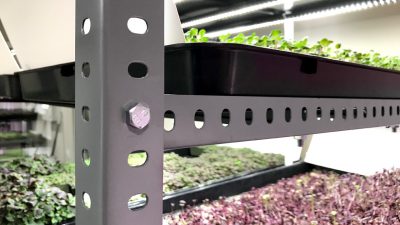 Adjustable to your needs.

You can grow in different formats. You can cultivate living microrgeens, for instance in our biodegradable cups and organic substrate, or you can grow entire trays full of microgreens that you freshly harvest, right before delivering them to your clients.
This modular system is easily adjustable. This allows you to adapt it to your needs, for instance to grow larger plants inside pvc pipes, or maybe you also want to start growing editable flowers? With just a couple of add-ons you are good to go!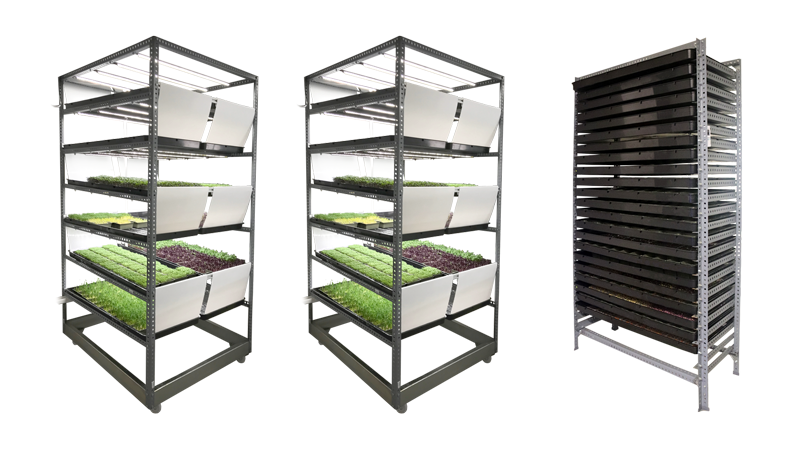 Easy scale up

Everything we use, from the smart-watering-trays, our biodegradable cups, to the slides, the cultivation system and the germination rack, they all fit perfectly together. This allows you to scale up fast, without the need to switch to another system. Whether you use one cultivation system or one hundred, the same design works.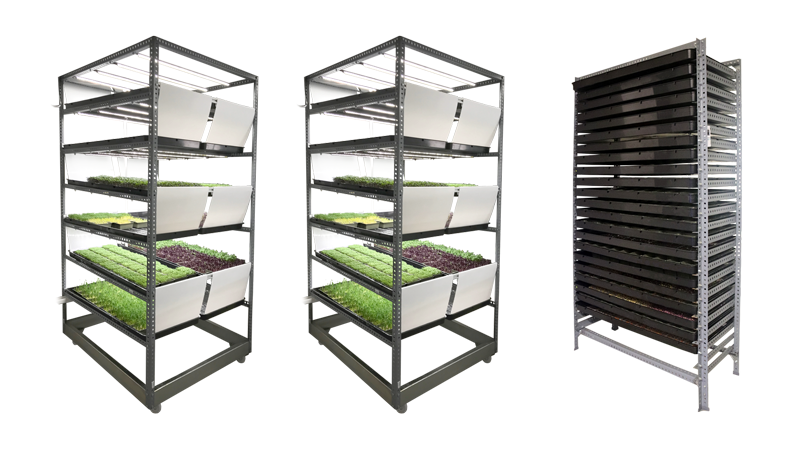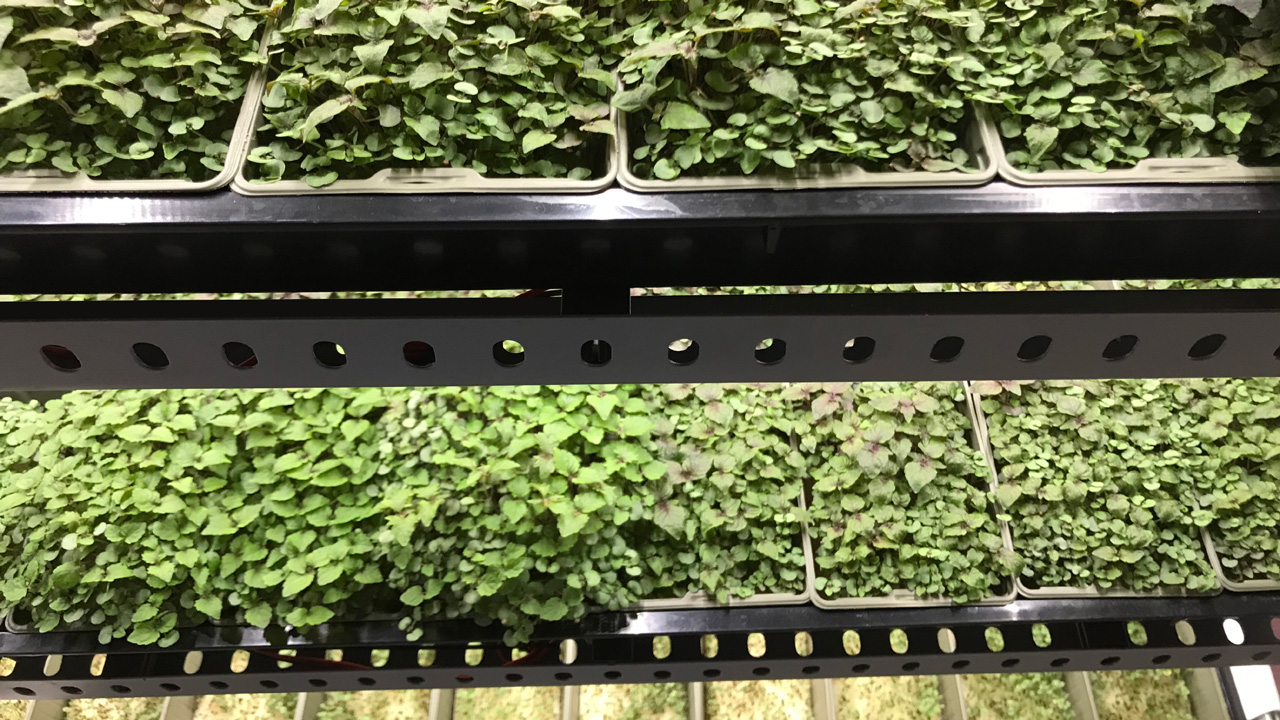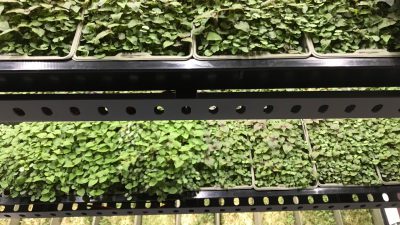 Cost effective
The basic 6 layer growing system using 12 smart-watering-trays has the capacity to produce 480 of our cups / week with fast growing microgreens (12 x 40 cups). Sell those for €3-€3,5, like we do, and you can produce € 1.440 worth of microgreens. Every week. Or € 6.240 per month. Not bad for a system that only costs you € 2.599.
Want to do some calculations for your own?
Our smart-watering-trays measure 110 x 55 x 5 cm / 43.3" x 21.6" x 19.7"
That's approx 4 1020's x 12 = 48 1020's/system (64 in the high density system)
Our biodegradable compostable cups measure 10 x 14,5 x 5 cm / 4" x 5.7" x 2"
You can fit 40 of those in each smart-watering-tray
The cultivation system comes in 2 standard configurations:
STANDARD DENSITY
€
2599
excl. VAT & shipping cost
6 layers with high quality LEDs
Automatic irrigation
12 smart watering trays
110 x 120 x 237 cm (L x B x H)
30 cm avg. light distance to plant
480 cups weekly avg capacity
HIGH DENSITY
€
3499
excl. VAT & shipping cost
8 layers with high quality LEDs
Automatic irrigation
16 smart watering trays
110 x 120 x 237 cm (L x B x H)
25 cm avg. light distance to plant
640 cups weekly avg capacity
Feel free to contact us if you have any questions about our cultivation systems.
We'll use this information to contact you personally with information on the cultivation system.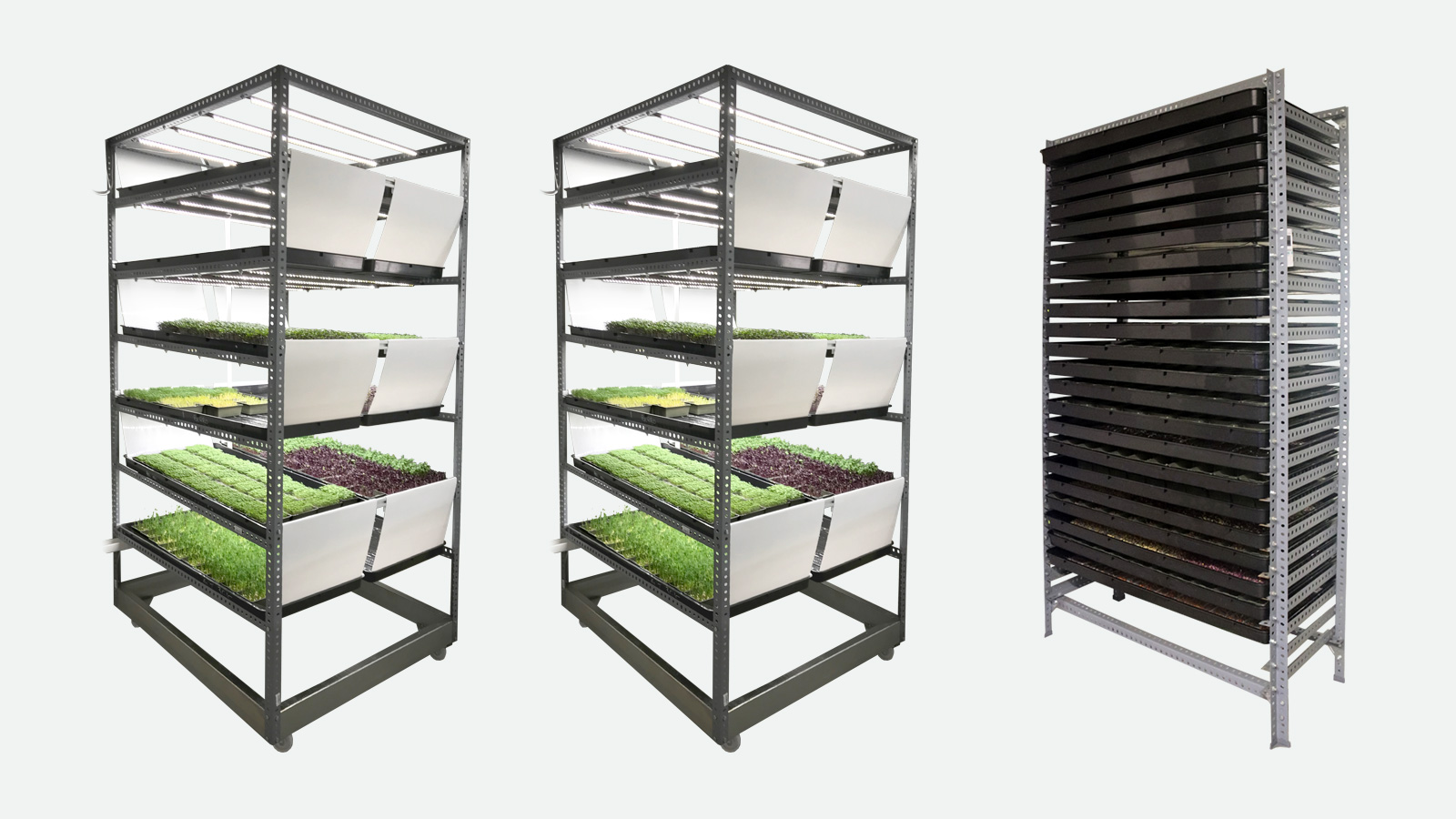 Essentials Growing pack
Get your production up to speed with this essentials cultivation pack.
2 x cultivation systems (12 trays)
1 germination system (24 trays)
48 smart-trays in total

Can produce > €12.480 per month
Total € 6.191 excl.VAT
Now: € 5.799 (you save € 392)
excl. VAT & Shipping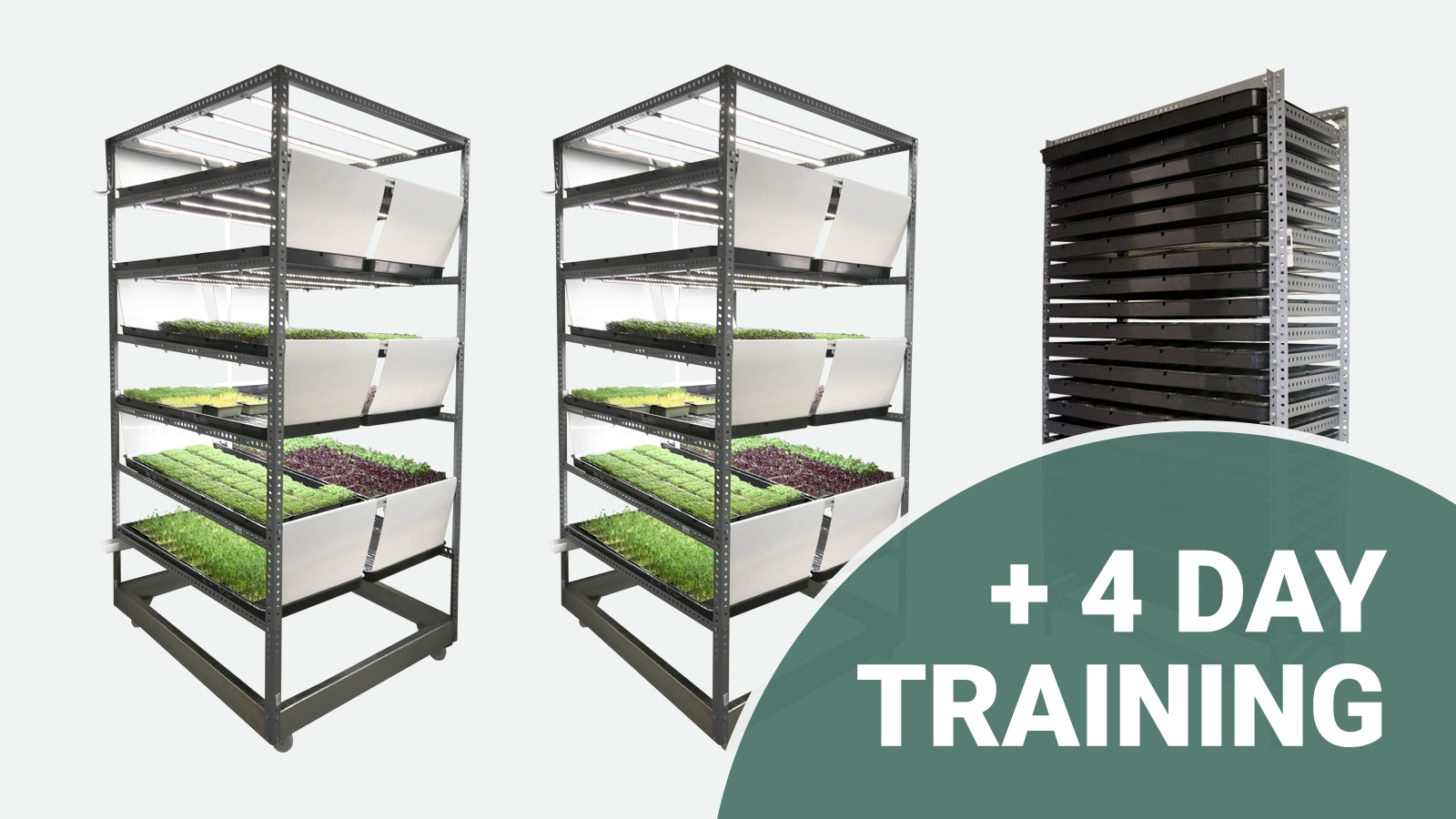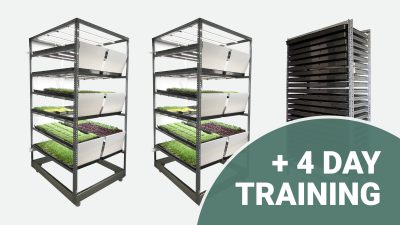 Essentials Growing pack + training
Become an urban farmer, with this cultivation pack and our 4 day training.
2 x cultivation systems (12 trays)
1 germination system (24 trays)
48 smart-trays in total

Can produce > €12.480 per month
Total € 9.190 excl.VAT
Now: € 8.299 (you save € 891)
excl. VAT & Shipping